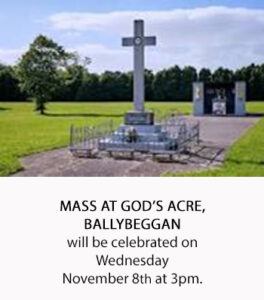 On Wednesday next, 8th November, at 3pm, the annual Mass for the Holy Souls will be celebrated in God's Acre, Ballybeggan, Tralee, by a priest from St Johns. Everybody is invited to come along and pray for their own dead as well as for those who have nobody to pray for them. 'It is a holy and wholesome thought to pray for the dead that they may be loosed from sins' (Maccabees).
KNOWN ONLY TO GOD
The main burial ground for those who died in Tralee Workhouse (now Áras an Chontae) during The Famine was the small cemetery that was opened in 1846 in the north-east corner of the site; it's still possible to visit it. In September of 'Black '47', as the dreaded Gort Mór raged among our people and as deaths and burials increased, the Poor Law Commissioners ordered that the authorities in every workhouse in the country were to bury their dead paupers in separate locations at a distance from Tigh na mBocht! It has long been the belief in Tralee that it was then that God's Acre in Ballybeggan was opened as the Workhouse Cemetery. For over 160 years, people have been regularly visiting that very special little burial ground and devoutly praying for the souls of the departed; they pray especially for those 'known only to God.' That wonderful tradition continues!
This year's event is being organised by God's Acre Committee 2023 which is led by Dawn Uí Chonchubhair (cathaoirleach), John Mason (leaschathaoirleach), Eddie Ó Murchú (rúnaí), Sinéad Uí Allmharáin (cisteoir). Beannacht Dé le hanamachi na marbh.